• Material: Low carbon steel wire, stainless steel wire.
• Weaving: Dipped galvanizing after weaving, weaving with hot dipped galvanized iron wire, Electric galvanizing after weaving, Weaving with electric galvanized iron wire, PVC coated welded wire mesh.

Technical Note:
1. Standard roll length: 30m;width: 0.5m to 1.8m
2. Special sizes available at request
3. Packing: in waterproof paper in rolls. Custom packing available at request.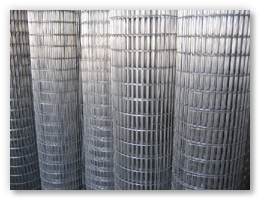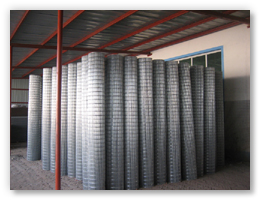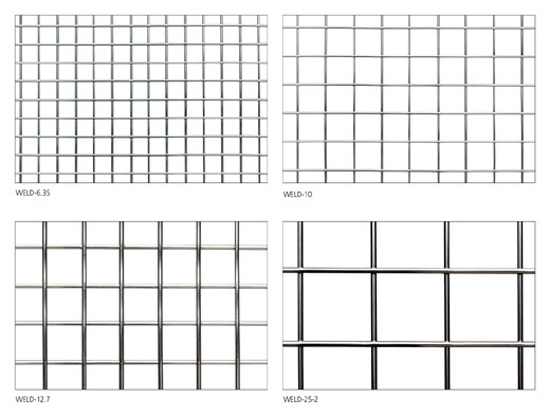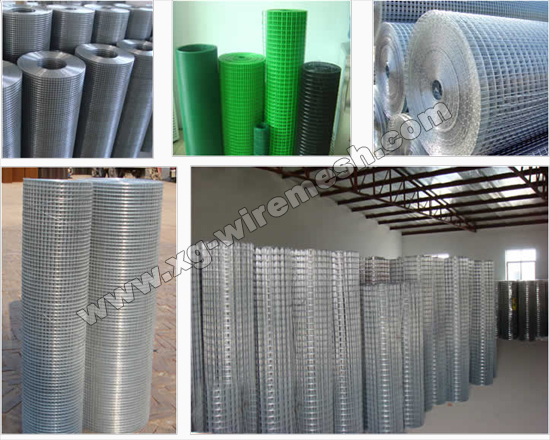 Specifications:
| | | |
| --- | --- | --- |
| Specification | Wire Diameter | Width |
| 1/2″ | 0.5mm-0.75mm | 0.5m-2.5m |
| 1/2″ | 0.56mm-0.8mm | 0.5m-2.5m |
| 1/2″ | 0.6mm-0.9mm | 0.5m-2.5m |
| 1/2″ | 0.7mm-1.0mm | 0.5m-2.5m |
| 1/2″ | 0.8mm-1.2mm | 0.5m-2.5m |
| 1/2″ | 0.9mm-1.2mm | 0.5m-2.5m |
| 1/2″ | 1.0mm-1.4mm | 0.5m-2.5m |
| 1/2″ | 1.2mm-1.6mm | 0.5m-2.5m |
| 1/2″ | 1.3mm-1.7mm | 0.5m-2.5m |
| 1/2″ | 1.4mm-1.8mm | 0.5m-2.5m |
| 1/2″ | 1.5mm-1.9mm | 0.5m-2.5m |
| 1″ | 0.7mm-1.0mm | 0.5m-2.5m |
| 1″ | 0.8mm-1.1mm | 0.5m-2.5m |
| 1″ | 0.9mm-1.3mm | 0.5m-2.5m |
| 1″ | 1.0mm-1.4mm | 0.5m-2.5m |
| 1″ | 1.2mm-1.6mm | 0.5m-2.5m |
| 1″ | 1.4mm-1.8mm | 0.5m-2.5m |
| 1″ | 1.5mm-1.9mm | 0.5m-2.5m |
| 1″ | 1.6mm-2.0mm | 0.5m-2.5m |
| 1″ | 1.7mm-2.1mm | 0.5m-2.5m |
| 1″ | 1.8mm-2.2mm | 0.5m-2.5m |
| 1″ | 1.9mm-2.4mm | 0.5m-2.5m |
| 1″ | 2.0mm-2.4mm | 0.5m-2.5m |
| 1/4″ | 0.46mm-0.7mm | 0.5m-2.5m |
| 1/4″ | 0.56mm-0.85mm | 0.5m-2.5m |
| 1/4″ | 0.6mm-0.9mm | 0.5m-2.5m |
| 1/4″ | 0.5mm-0.8mm | 0.5m-2.5m |
| 3/4″ | 0.6mm-0.6mm | 0.5m-2.5m |
| 3/4″ | 0.7mm-1.0mm | 0.5m-2.5m |
| 3/4″ | 0.8mm-1.2mm | 0.5m-2.5m |
| 3/4″ | 0.9mm-1.3mm | 0.5m-2.5m |
| 3/4″ | 1.0mm-1.4mm | 0.5m-2.5m |
| 3/4″ | 1.2mm-1.4mm | 0.5m-2.5m |
| 3/4″ | 1.4mm-1.8mm | 0.5m-2.5m |
| 3/4″ | 1.5mm-1.9mm | 0.5m-2.5m |