Used in producing security screen that guards your house against theft. This Kind of wire mesh was submitted to Australian Engineering Laboratories, for testing.
Characteristics: Perfect flat surface, beautiful finish, equal aperture, and no faults.
Available: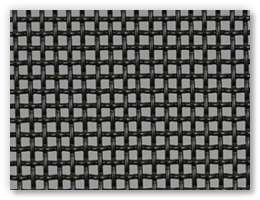 A) Black stainless steel wire mesh (AISI 316 or 304)
B) Black galvanized crimped square wire mesh
Specification: Mesh 11 × 0.8mm (0.71mm)
Size: 750mm × 2000mm (2400mm)
900mm × 2000mm (2400mm)
1200mm × 2000mm (2400mm)
Packing: Multiple board case.